Entertainment

February—the month of love, American Heart Month and most importantly, Black History Month, an opportunity to celebrate the African-American community's immeasurable contributions to the United States of America.

How can you celebrate in the Classic City? The University of Georgia has kicked off Black History Month 2015 with a variety of programs and events to commemorate "A Century of Black Life, History and Culture." Mid-February is rapidly approaching; don't miss your chance to celebrate Black History Month!

The UGA Chapter of the National Association of Black Journalists recently held an intimate question and answer session on Friday, Feb. 6, with the 2015 Holmes-Hunter Lecturer, Judge Glenda Hatchett.

"Judge Hatchett is the same person on and off camera! It was refreshing to see that the sentiments and thoughts she held on her TV show cross over into her real life. Judge Hatchett was very personable and down to earth and shared very inspiring stories with the audience," said Brianna Watts, Vice President of NABJ.

Soledad O'Brien's "Black in America Tour" will be making its way to UGA on Feb. 17 at 7 p.m. in Tate Grand Hall. This event will feature a discussion about recent race-related events, relevant news stories and clips from some of O'Brien's renowned documentaries. She will also moderate a discussion concerning the relationship between law enforcement and minority communities. Did I mention this was FREE for UGA students? Tickets are available at the Tate Cashier Window.

With the 50th anniversary of the Selma march, the release of a groundbreaking film and the recent racially targeted events in Missouri and New York, there is great excitement about Black History Month 2015. Please join NABJ in celebrating the past, present and future of our people.

Check out this month long list of lectures, performances, movies and events to highlight diversity, inclusion and the milestones in African-American culture:


Powered by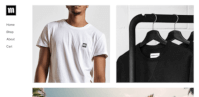 Create your own unique website with customizable templates.